My New Commuting Bicycle
19 March 2012
After having my commuting bicycle stolen outside of a Denver restaurant in autumn of last year (bah!), I've been in need of a replacement. But after the check for my home insurance claim arrived, I decided to hold off from buying a new one immediately since winter was around the corner.
Fast-forward to three days ago…
Motivated by the recent warm weather we're getting before spring, the will to keep back in shape, and the sum of money saved from the home insurance check along with some recent birthday cash, I ventured out to find a new commuting bicycle.
I wasn't sure what I wanted this time around, but I knew I didn't want the same style of bike I had before. Previously, I had bought a dual-sport. Back then, I figured that since I loved MTBing, I wanted a bike with similar features but with better road efficiency. While the dual-sport did just that, I decided not to go that direction again.
After spending parts of two days, going through the inventory at my local REI, Wheat Ridge Cyclery, and some random smaller bike shops, I found a bicycle that I really liked at the Westminster Bicycle Village: a 2011 Trek (1st) District in Matte Platinum.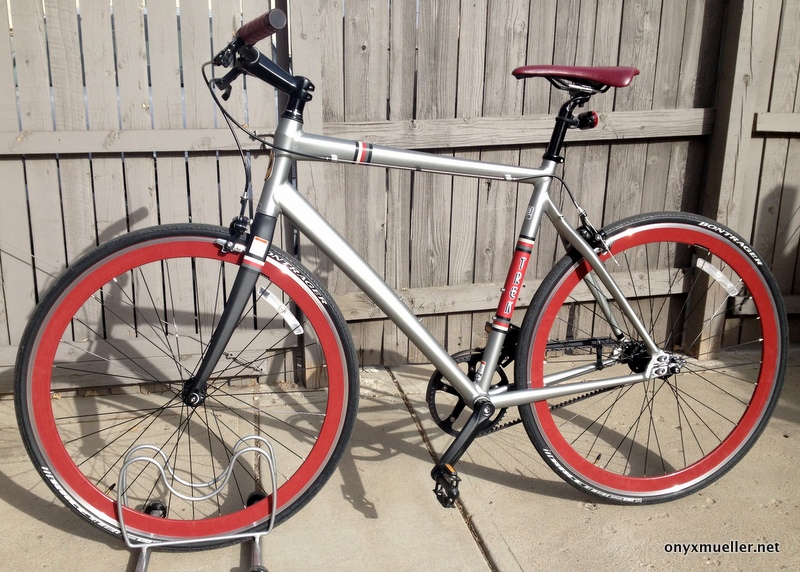 There were several features/aspects of the Trek District that I loved:
It's a single-speed bicycle, which means it doesn't have the additional gears you normally find on bicycles.
It uses a belt-drive, so it replaces your standard oily, noisy bike chain with a totally silent, maintenance-free belt made of Kevlar.
The carbon fork, aluminum frame, single gear system, and aggressive road bike inspired geometry help to make the bike extremely light.
It has a really cool "urban", yet vintage design/look.
Along with that, I was happy to discover Bicycle Village was having a clearance sale, which knocked the price down to $790 (vs. $1100-1200 MSRP). So, after a quick test spin, I bought and brought home my new commuting bicycle. 🙂
— Onyx